Striving for a sustainable future. Pranamat ECO uses Green Energy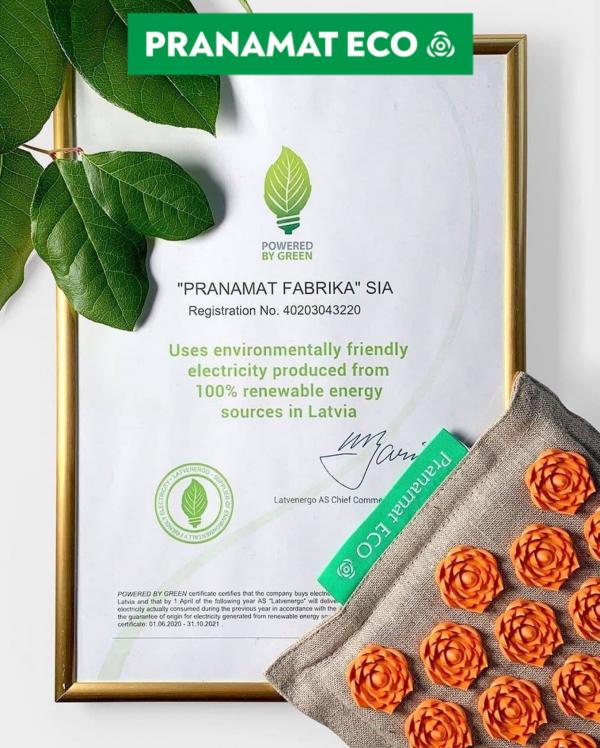 As all of you know Pranamat ECO is an eco-friendly product and ecology means a lot more to us than just 3 letters in our brand's name. We are all about sustainability and now every single Pranamat ECO massage set is produced with the help of green energy and renewable resources.
Pranamat ECO was founded in 2009 and since then, our company has created added value in terms of environmental impact. This is why our business model is all about care for the environment and sustainability. Pranamat ECO products are made from 100% eco-friendly materials that are also OEKO-Tex certified.
What are they?
Pure linen, cotton, coconut fiber and buckwheat hulls.
What about plastic?
Pranamat ECO massage elements are made of HIPS plastic – it's the most environmentally friendly plastic out there. Its manufacturing process emits 43% less pollution, consumes 30% less electricity and 42% less water than production of other types of plastic. It can also be re-purposed and have a second life, even in the exact same shape as our signature lotus flower!
Instead of a potentially toxic glue, we use thermal welding for adding massage elements to our products.
We import all the materials from EU countries only. This doesn't only help ensure quality, but it also helps reduce CO2 emissions during transportation.
We want to provide products made professionally and ethically, so all our production is local. We have been taking care of every detail for more than 14 years.
To get as close as possible to zero-waste, in 2018 we stopped using transparent plastic boxes. Pranamat ECO boxes are now made from 100% recycled cardboard, which is biodegradable. Since 2019 the usage tutorial is also being made from recycled paper.
By choosing Pranamat ECO you can be sure that:
You are investing in a product that doesn't contain harmful substances;
You are getting a product that will last you many years even if you use it every single day;
You are supporting ethical production in Europe. Choose the best not only for yourself, but also for the planet!