Crystal Tanner
Jan 05, 2023
I started off with the simple body mat and fell in love with it. I ended up falling asleep on it multiple times. It can be uncomfortable in the beginning but the increase in blood flow is incredible. I love standing on it when I'm in the kitchen prepping food or laying on it after a long day. Now that I have the pillow too, I use them both to lay and meditate.
Kelli Anne
Jan 04, 2023
I have had my Pranamat since Christmas and I have already had so much muscle relief for headaches and migraines. Targeting my upper and lower back and leg muscles. Amazing product and I cannot wait to have more in my collection to really be able to help any area of the body!
Stephanie Jewell
Sep 29, 2022
I love mine so much. I use it to relieve stress. It really goes, hurt so good and I look forward to my evenings with my pranamat. Tonight was day three and I'm up to 15 minutes.
Caroline Waisanen
Aug 04, 2022
I've had the pranamat for 2 months now and it is vital to my daily routine for my health - physically, mentally, and spiritually!
Valerie S
Aug 02, 2022
I've only used it a few times so far but I'm enjoying it. It feels very sharp so I started with a light swaddle laid out on top. It feels like my body is getting a charge. Warm and electrified. I've only used it with a small headache (waiting for the big migraine to get me) but it was great at counter-pressure.
Manuel Delgadillo
Aug 02, 2022
My wife purchased it as it was recommended for IVF. And let me tell you this mat is impressive she used it before the transfer and would just lay on it and fall asleep. I used it after a few hikes and hard days at work and it has helped with muscle soreness. She loved it so much she wanted to take it with us on our flight to Seattle.
Raquel Romines
Aug 01, 2022
My husband and I are loving our mat! He has a lower back issue and has gotten relief just from using the mat a few times. I can tell that I am much more relaxed using the mat! We will keep using it…great product!
Lauren Borg
Aug 01, 2022
My pranamat has by far been one of the very best investments I've made for my health. I have been using mine for years, and it continues to bring rest, stimulation and healing each time I use it. I enjoy deep massages, and the acupressure points on the mat create a similar flow in the body that I feel after a great massage. The rest of my family members love it too. I especially love my prana pillow! The mat is so good to start or end the day with - I am so grateful for my pranamat!
Elizabeth
Aug 01, 2022
I don't know why I waited so long to get this! My husband and I love it!
Kate Stoker
Aug 01, 2022
I love my mats and wish I would have gotten the third for my calves. I use them throughout the day when I'm feeling achy and most evenings when I'm winding down from a long work day. I love that I can tell where my body is out of line and know that I'm helping it heal. This has become and important part part of my self care and is a great quality product.
jessica robles
Jul 31, 2022
Helps me so much with my back pain and migraines. life saver! i use it religiously
Flor Bolanos
Jul 31, 2022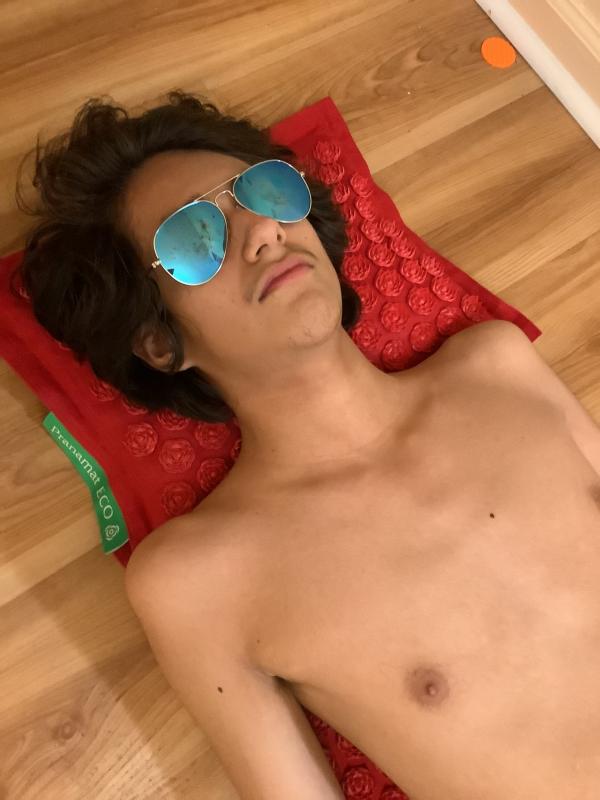 I love my pranamat! I ordered it in red because I'm working on my root chakra to rebalance my financial and emotional stability! The color has been a great boost to my grounding every time I use it. The effects of the mat are felt instantly and grow with every use. I personally use it in the am after I wake up. I nurse my son through the night so I need that relief for soreness in my back and neck and I recommend it to all who have physically daunting lifestyles!! When I first used it my back was on fire lol but with my second and third used my back just got used to it and the longer I stayed on it the better the results! Give yourself that relief!! Pictured: My nephew ring the mat for the first time. He was shocked initially and then he turned to mush! :3
Farrah
Jul 31, 2022
Honesty, this is one of my favorite tools EVER! Helps me feel grounded and relaxed. I couldn't be more grateful for this! Thank you!
Ali Romanoff
Jul 31, 2022
If you're on the fence at all.... Buy It! I only wish I hadn't taken so long to buy a Pranamat. I'm a custom cake designer and therefore on my feet all day. At the end of long, hot (Charleston, SC) weather everything hurts. Just a few minutes on the mat and it hits all the spots.. Hurts sooo good...
Bailey Hensley
Jul 31, 2022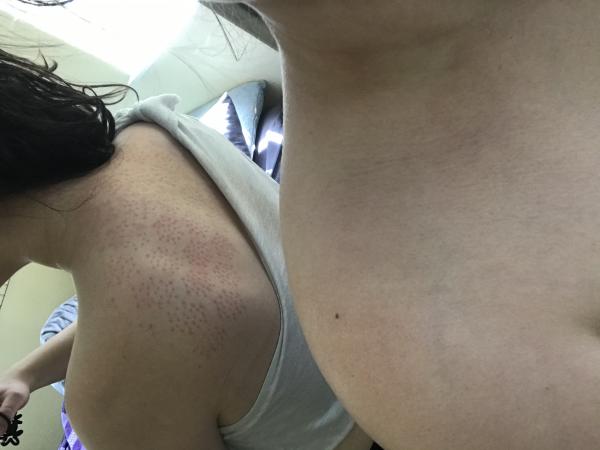 I absolutely LOVE my pranamat! It's helped me a lot with not only back pain but my anxiety as well - I hold a lot of emotion in my body and the pranamat helps not only relieve the tension, but helps me slow down and allow myself to rest. The pranamat has these little flower shaped points that act as an acupuncture type mat. It's become my favorite daily routine, I lay on it for about 30 minutes and I keep the small foot size mat under my desk to use when I feel antsy working. I've even fell asleep laying on it before!
Stephanie Antuna
Jul 31, 2022
I totally love my Pranamat! I have been using for the last 2 month and I love it! It's a little self care love for me when I am having a rough day or I need a little relaxing because I have tension in my body.
Courtney Osselaer
Jul 30, 2022
I bought this as a gift for my husband because he has chronic back pain. Well, he's been a bit resistant to trying it. But I have fallen in love. I used it one night for menstrual cramps and they went completely away. Wasn't expecting that!
Rebecca
Jul 30, 2022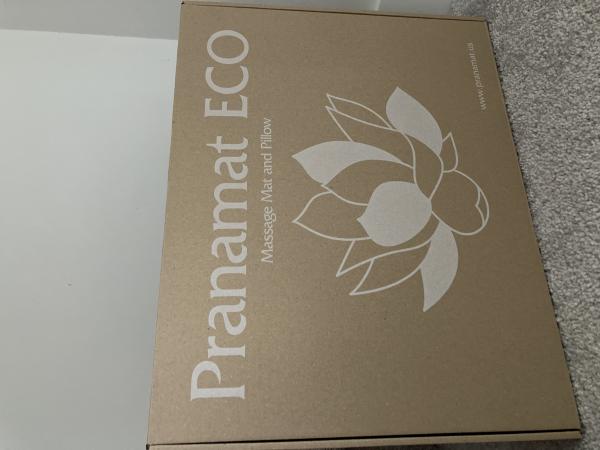 I ordered the pranamat eco a few weeks ago after thinking about for the last 2 years. I had my 3rd baby 3 months ago and have had back and hip pain. This mat is wonderful and has helped to significantly reduce my pain! I love it!
Maddie R
Jul 30, 2022
I have been loving my pranamat! I took me a few times to get used to how sharp it feels but now it doesn't phase me! It helps me relax and helps with my back and neck tension! Definitely worth the money!
Nicole lembo
Jul 29, 2022
I love my prana mat.. I use it before before bed or early in the morning after doing garden chores.. I have severe lower back pain when I move for too long or stand. My back will go completely numb from pain.. I do not experience the numbing effect when I use my prona mat. Thank you so much for this!
Gabbi
Jul 29, 2022
I LOVEEEE my pranamat! First of all the design and colors are so pleasing. I have the teal pillow and mat set and I use the pillow a lot for my neck (usually longer than the suggested time because it just works wonders ????). Definitely would recommend to anyone with pain!
Stephanie Cooke
Jul 29, 2022
This is the best investment to my being that I have ever made! I use my set everyday! I love my set, I chose the red!
Jennifer Lastimosa
Jul 29, 2022
I am so glad I found pranamat. I have chronic Low back pain and was looking for something non-pharmaceutical to help manage the pain. At first the mat is a little overwhelming but I followed the recommendations and am starting off slowly, 2-3 min at a time. I plan to use this mat forever!
Bridget Mariner
Jul 29, 2022
The Pranamat has been such a lifesaver - from a gentle reminder to slow down, to an almost-painful-but-so-relaxing experience, easing aches, pains and stress points. I'm really pleased I finally splurged and made the purchase.