Basic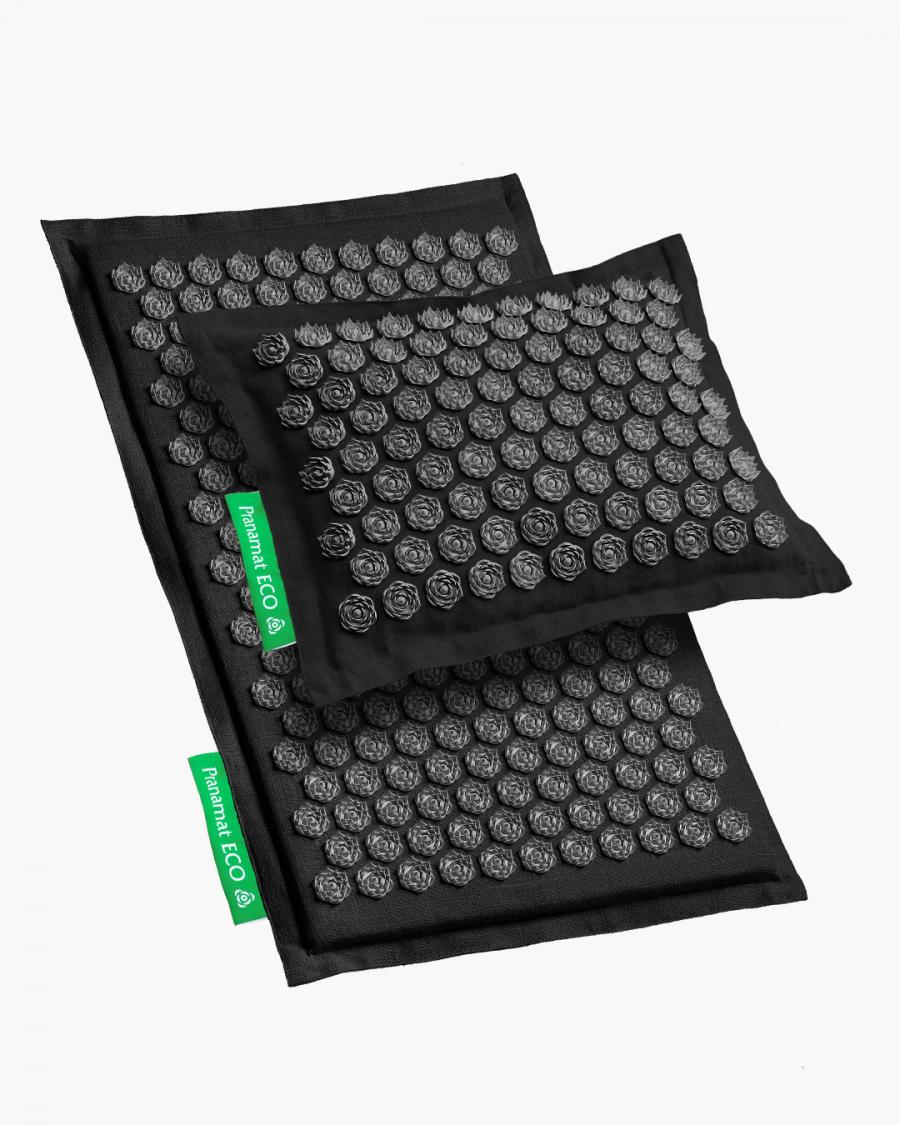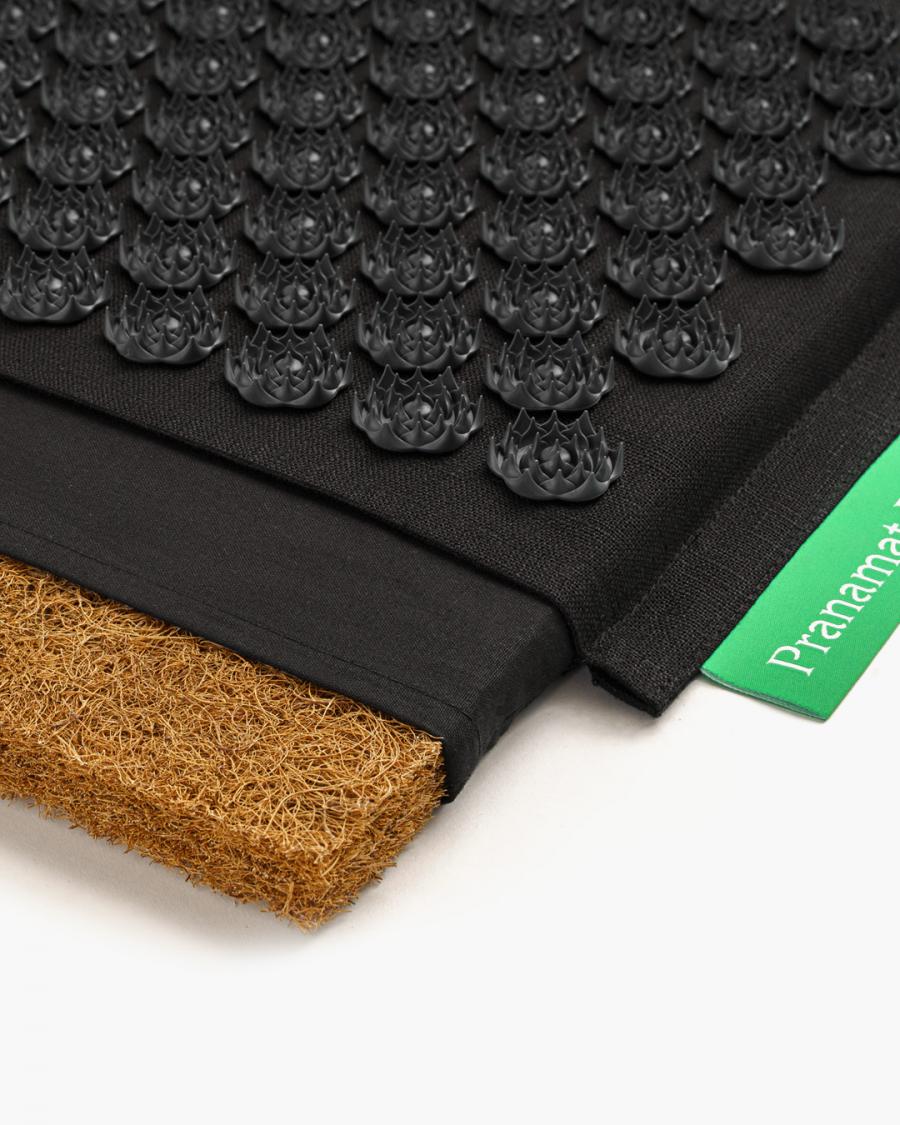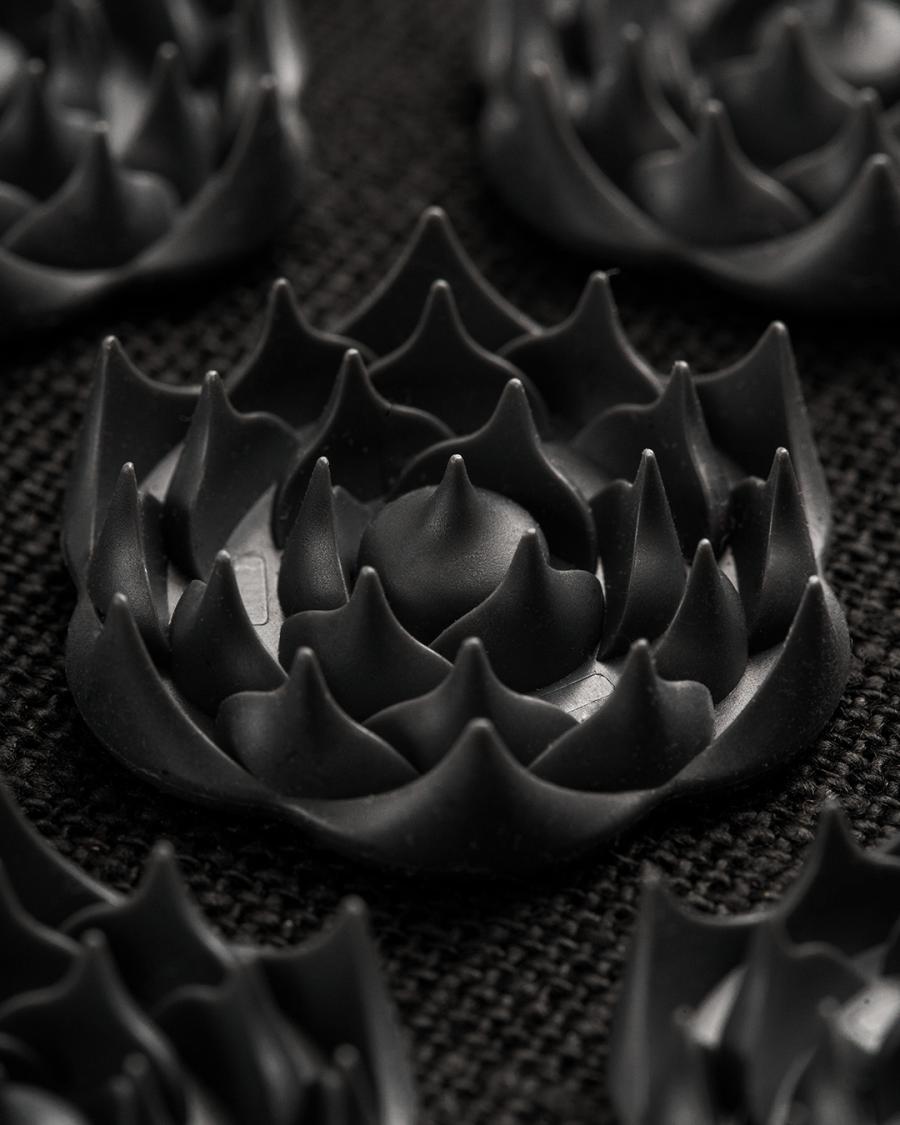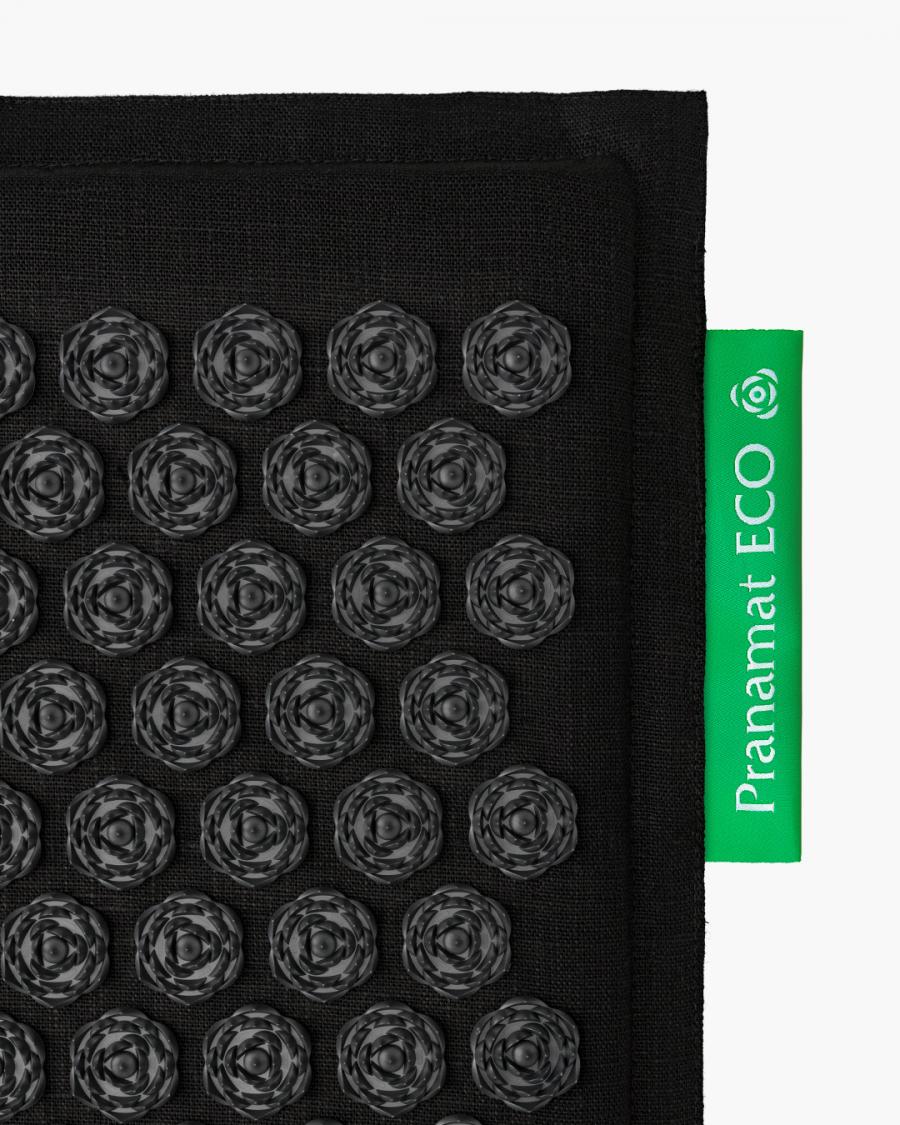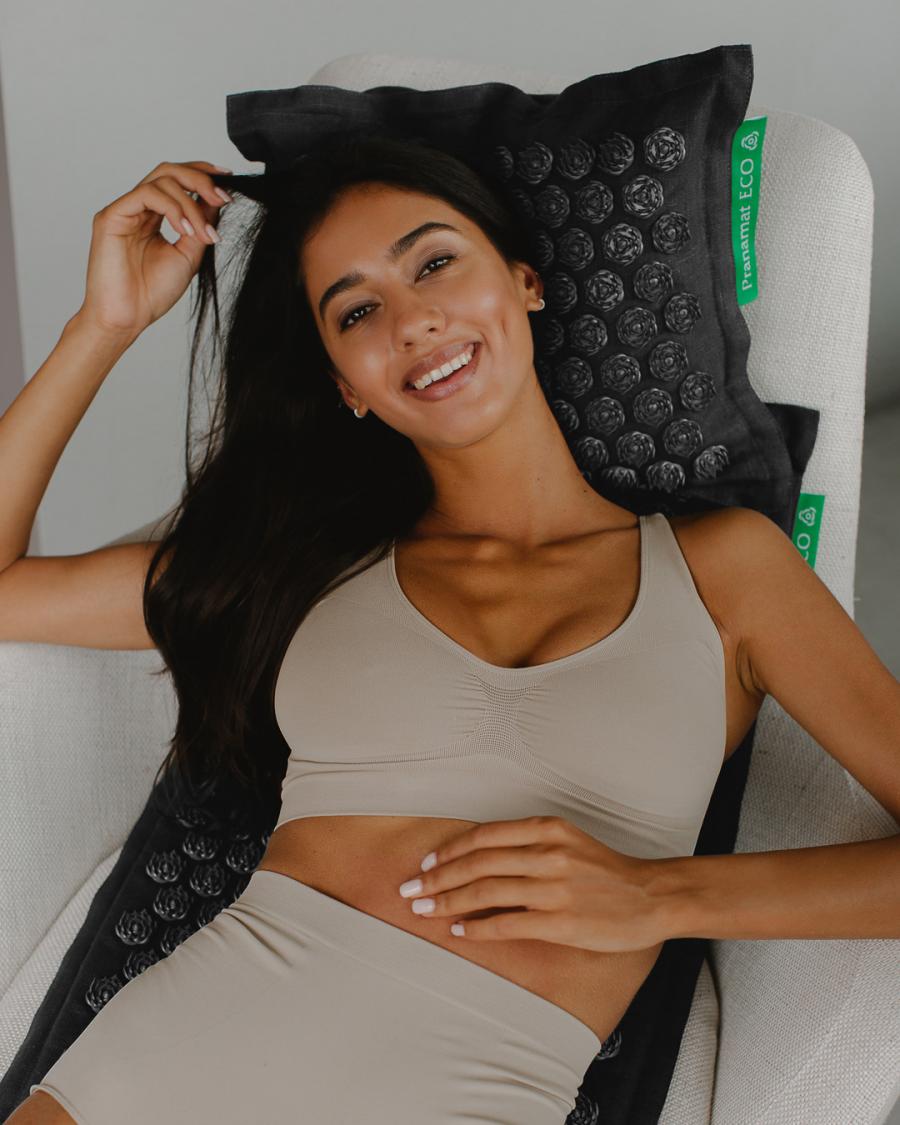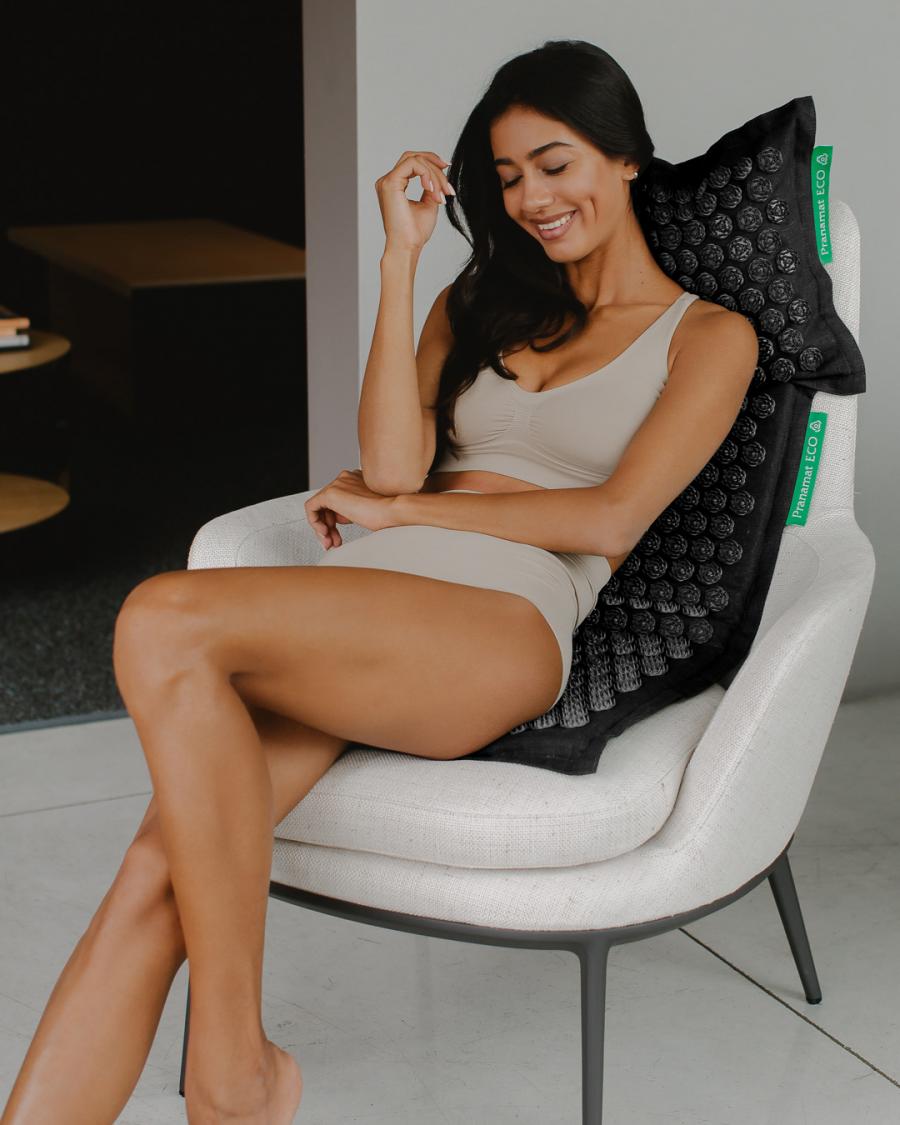 Mat + Pillow
The lowest price of the product in the period of 30 days: $290
The Basic Massage Set consists of the Pranamat ECO Mat and Pranamat ECO Pillow. It targets the head, neck, shoulders, whole back and sacral region. Use the whole set together and separately. The Pranamat ECO Pillow will help you work out the muscles of the lower back and neck-collar area. The Pranamat ECO Mat affects active points of the back, abdomen, arms or legs.
| Product | Size |
| --- | --- |
| Pranamat ECO Mat: | 28.7 x 17.7in ( 73 x 45 cm) |
| Pranamat ECO Pillow: | 13.38 x 17.72 (34 x 45 cm) |
HIPS plastic. Safe for health also used in food packaging and toys.
100% Natural coconut fiber
100% untreated cotton
100% natural linen
Pillow Filler: 100% natural buckwheat hulls
Do not fold the mat in half as this may damage the lotus spikes. It is recommended to store the mat flat in the Big Bag, hang it in your closet on a hanger or put it under the bed or in a drawer laid flat.
Do not wash your Pranamat ECO in the washing machine. Handwash the covers in a mild detergent, if necessary. It is recommended to periodically sprinkle the lotus spikes with a mild disinfectant between washes.
Avoid drying your Pranamat ECO in direct sunlight, otherwise the beautiful bright hue of your massage set will fade away.
Keep your Pranamat ECO away from moisture, dust, dirt, kids, pets and direct sunlight.
How to use your Pranamat ECO
When you first have a massage with Pranamat ECO® the feeling is truly unforgettable – the sensation you get is intense! But after a few moments a pleasant warmth spreads through your whole body, tension and discomfort disappear and you can enjoy all the pleasure that massage brings.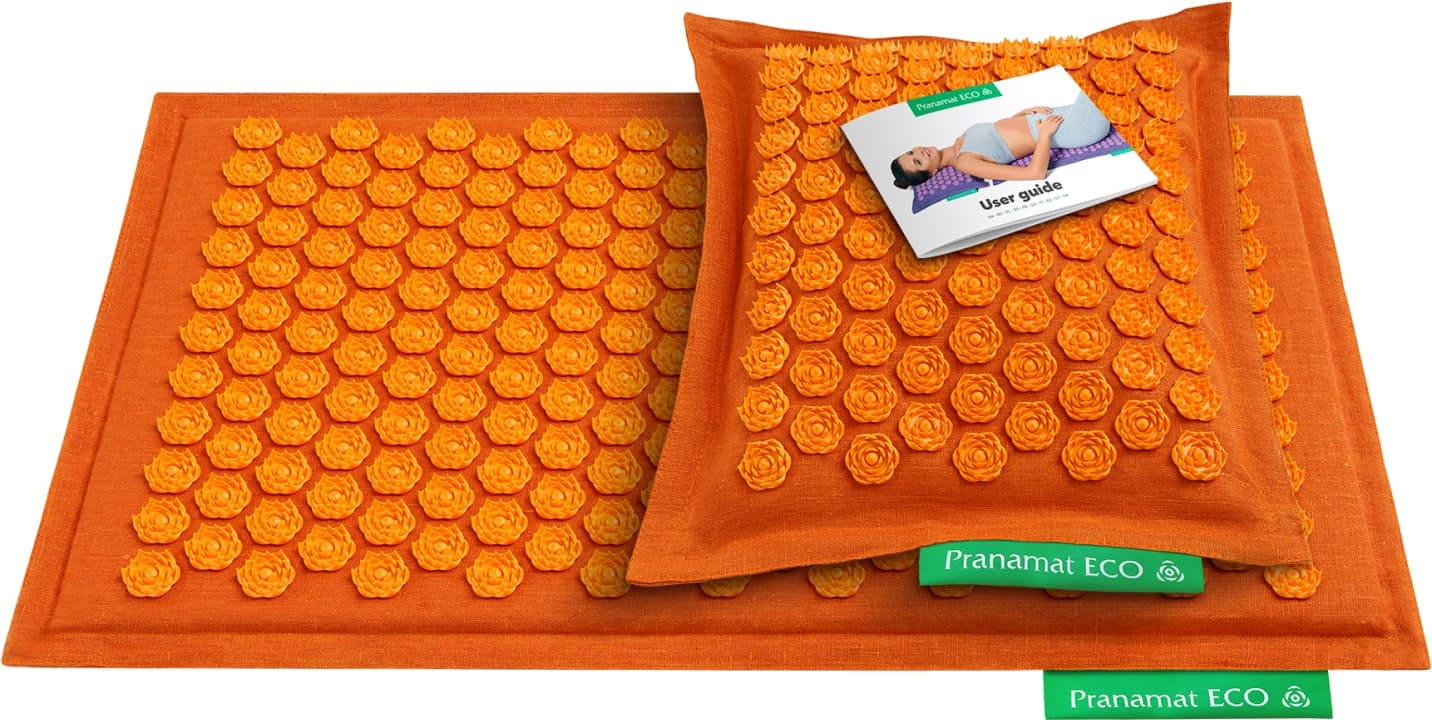 5 REASONS TO CHOOSE PRANAMAT ECO
Frequently Asked Questions

All you wanted to know about Pranamat ECO and even more
The surface of the Pranamat ECO mat is larger than that of most massage mats. The 28.7 × 17.7 in (45 x 73 cm) size is big enough to cover your entire back, which allows for maximum exposure to the specially-calibrated lotus-flower massage elements. This adds up to a truly transformational experience.
Pranamat ECO products have been tested according to STANDART 100 by OEKO-TEX and is certified. Certificate number is VN025 155799.
Yes, all Pranamat ECO products include a user guide. Languages include: English, Spanish, Russian and Latvian.
We lovingly hand-make all Pranamat ECO products ourselves, in beautiful Latvia (European Union). Our highly-skilled craftspeople work to rigorous standards – taking care of every last stitch. We don't outsource – because our production is ethical, and we need to know that we are delivering you the highest possible quality.
The benefits are noticeable after the first few minutes of the first massage, starting with a sensation of warmth in the skin. After about ten minutes you will start to feel a sense of comfort and peace.
If you receive a defective product or detect an abnormality during the warranty period, please submit a claim to
[email protected]
describing the defect and attach photos detailing the defect.
Pranamat ECO is ethically handmade in our own European lab and workshop, according to the highest quality standards. All our products come with a 5-year warranty.
At Pranamat ECO we're proud of our craftsmanship and believe in the longevity of our natural materials. Your warranty covers any defect of production, so you can enjoy your Pranamat ECO for years to come. If you'd like to apply for a replacement, for reasons other than normal wear and tear, please contact us on
[email protected]
with your photos and we'll investigate on a case-by-case basis. If you qualify, you'll be issued a single lifetime replacement per purchase. In the meantime, please store your Pranamat ECO flat inside the Big Bag or on a surface that's out of the reach of moisture, kids and pets.
Many children love using Pranamat ECO. If your child uses Pranamat ECO, they should have adult supervision at all times, since the petals are sharp. A child's skin is particularly sensitive, so we suggest placing a linen cloth or cotton t-shirt between the mat and body and limiting the session to 10-15 minutes. We get feedback from parents explaining that they allow their child to gently touch the lotus flowers with their fingertips to develop motor skills. Some parents also encourage their kids to gently press their feet onto the mat, from a sitting position.
For best results, use Pranamat ECO every day, and whenever you feel a specific need. We recommend making Pranamat ECO part of your daily routine. For example, use it after brushing your teeth, once you are ready for bed each evening. Or place it on your office chair for the first 20 minutes of your working day.
Hi there! Pranamat ECO has been specifically developed for, clinically tested on and safety checked for use on the body - head, neck, shoulders, back, butt, tummy, legs, feet. For that reason we can't recommend using it on the face, although we understand the desire!
Pranamat ECO is designed to massage the back, neck, arms, legs, feet and hands. It can also be used on the scalp; the top or sides of the head. It is, however, not recommended for use on the face, chest or inner-thigh area.
Everybody loves Pranamat ECO
Literally worth every penny. Don't get fooled by the imitation, it's worth the investment. After laying on this mat I feel instantly rejuvenated.
I was very skeptical at first. I mean really how can a mat be this life changing. Well I gave it a shot and now it's part of my nightly routine. It completely relaxes me and puts me in a deeper sleep. The other piece is if my back is sore I lay on my mat and the pain subsides. It's honestly a miracle and I can't believe how effective it really is!
It is the most painful relaxing therapy I have ever used. The pain goes away with continued use. Love love love this mat!!!
I absolutely loveeeee this mat! It has been so helpful and useful for my families health.
My mat are of my must haves. I use daily at different times a day
I love my Pranamat! I recommend it to anyone who will listen. It is so much better than the cheap one they sell on Amazon. The quality is unmatched and the colors are so fun! I have the full set and a heart shaped pillow, but I definitely plan on expanding my collection! I've already told my family they can expect to receive Pranamats for Christmas! Just 20 minutes every night (or one full episode of your favorite TV show) will have you sleeping like a baby and any chronic pain will mostly disappear! At least that was my experience. Thank you Pranamat for a life changing product!
Can't say enough good things about my Prana Mat. It relives stress and tension. I use it for headaches and muscle soreness and for relaxation. Laying on it at first it a little prickly but in a few minutes you don't even feel it . I can even fall asleep on mine. The quality is amazing as well. I have seen other mats and they don't compare. Prana uses great materials. I have had mine over a year and it still looks brand new and I take mine everywhere with me
The Pranamat is next level relaxation! It's the deepest relaxation i hace ecperienced in years, it helps me sleep so much better and have lowered the tensions in my back.
Become a part of

the community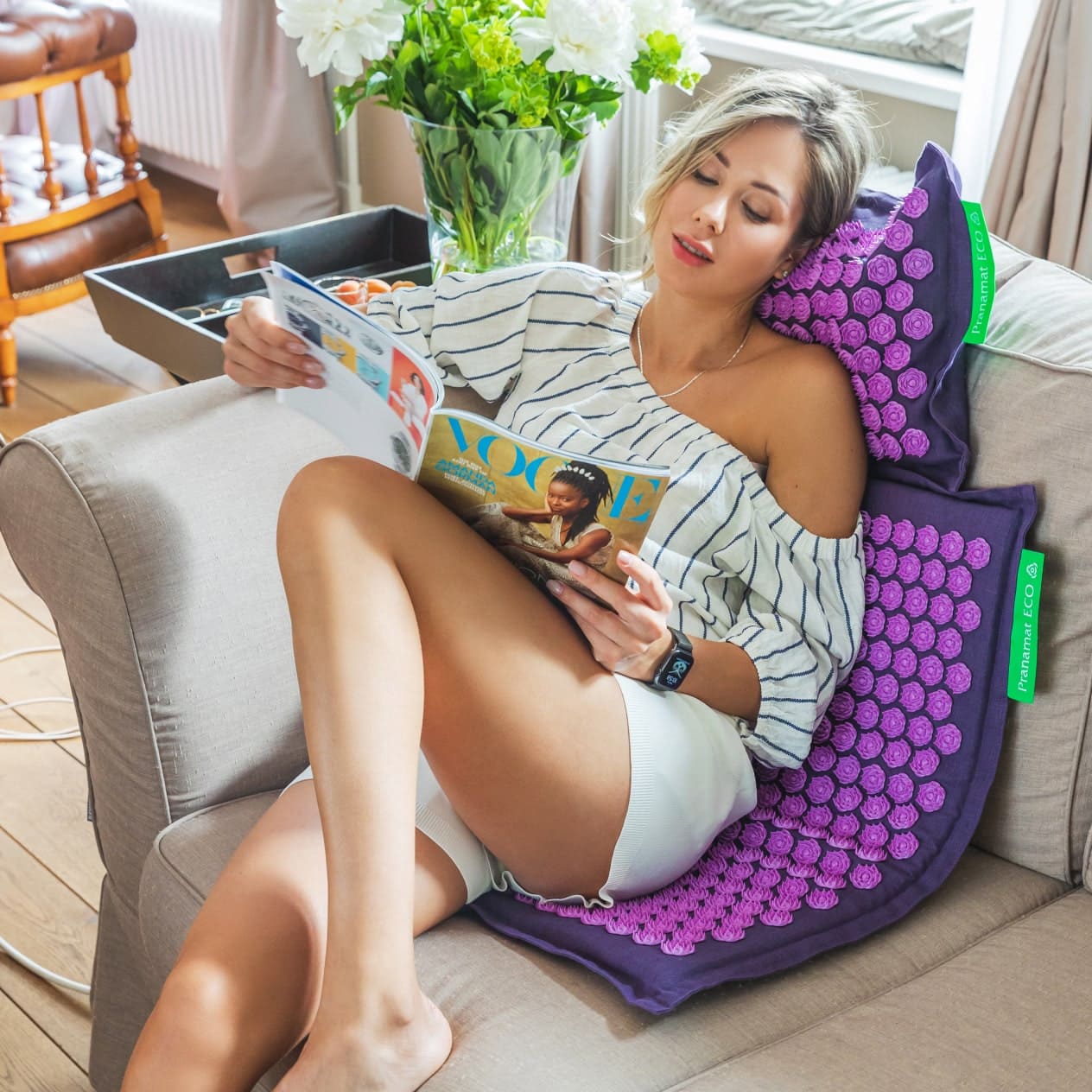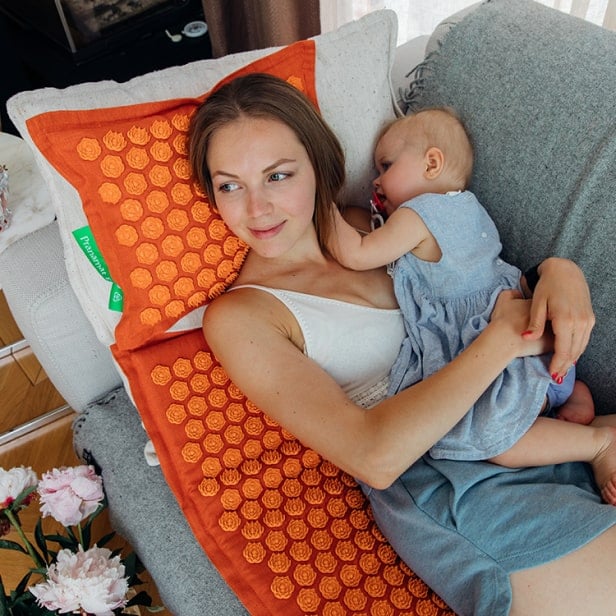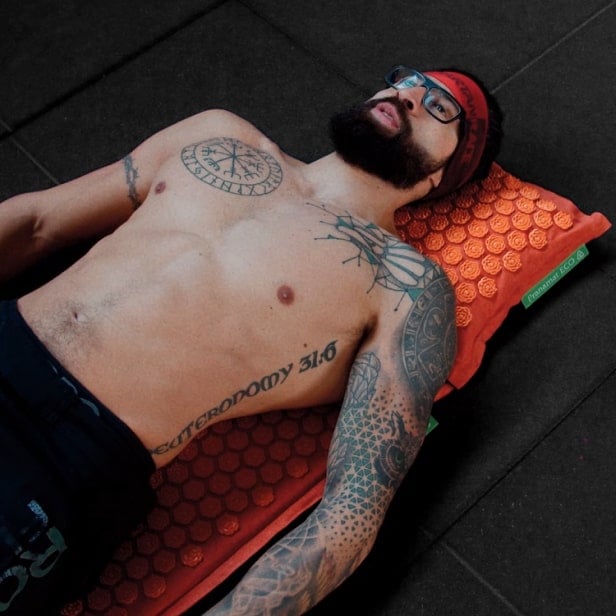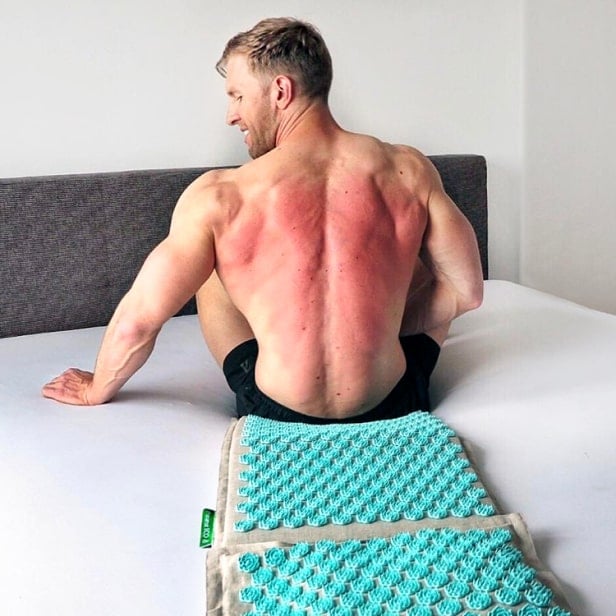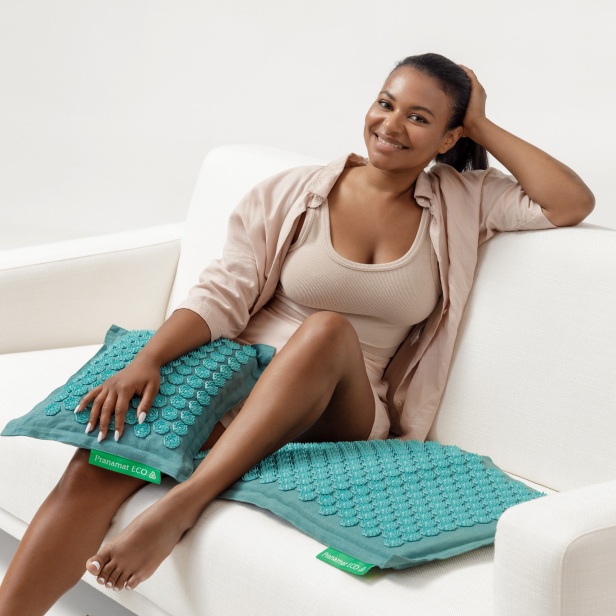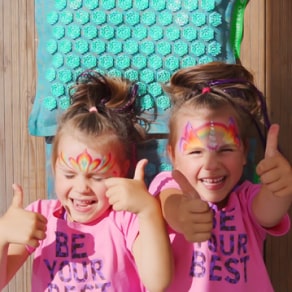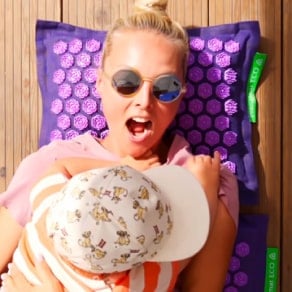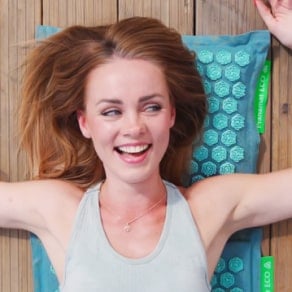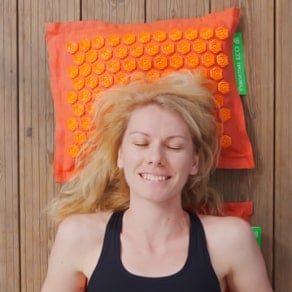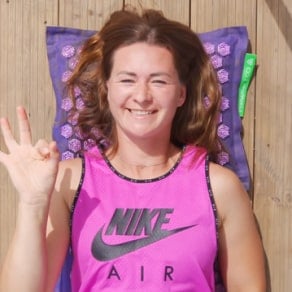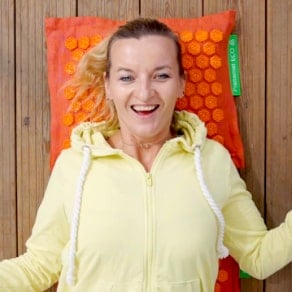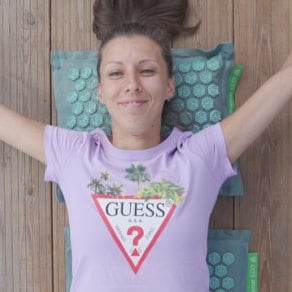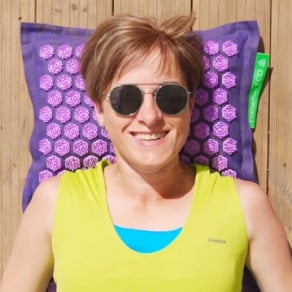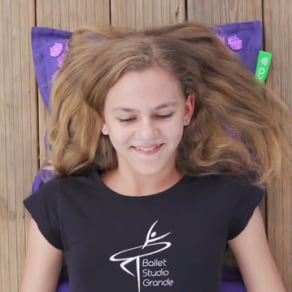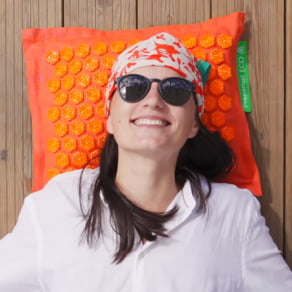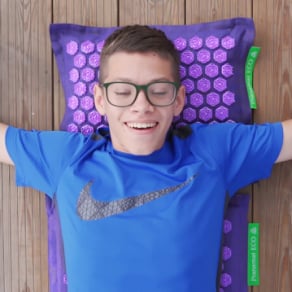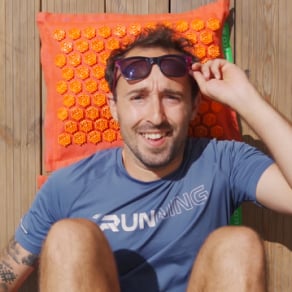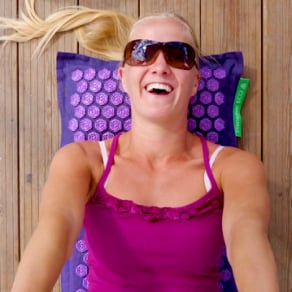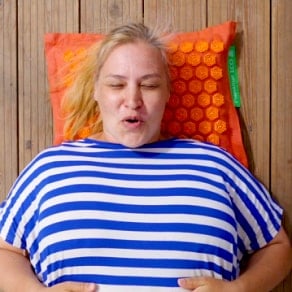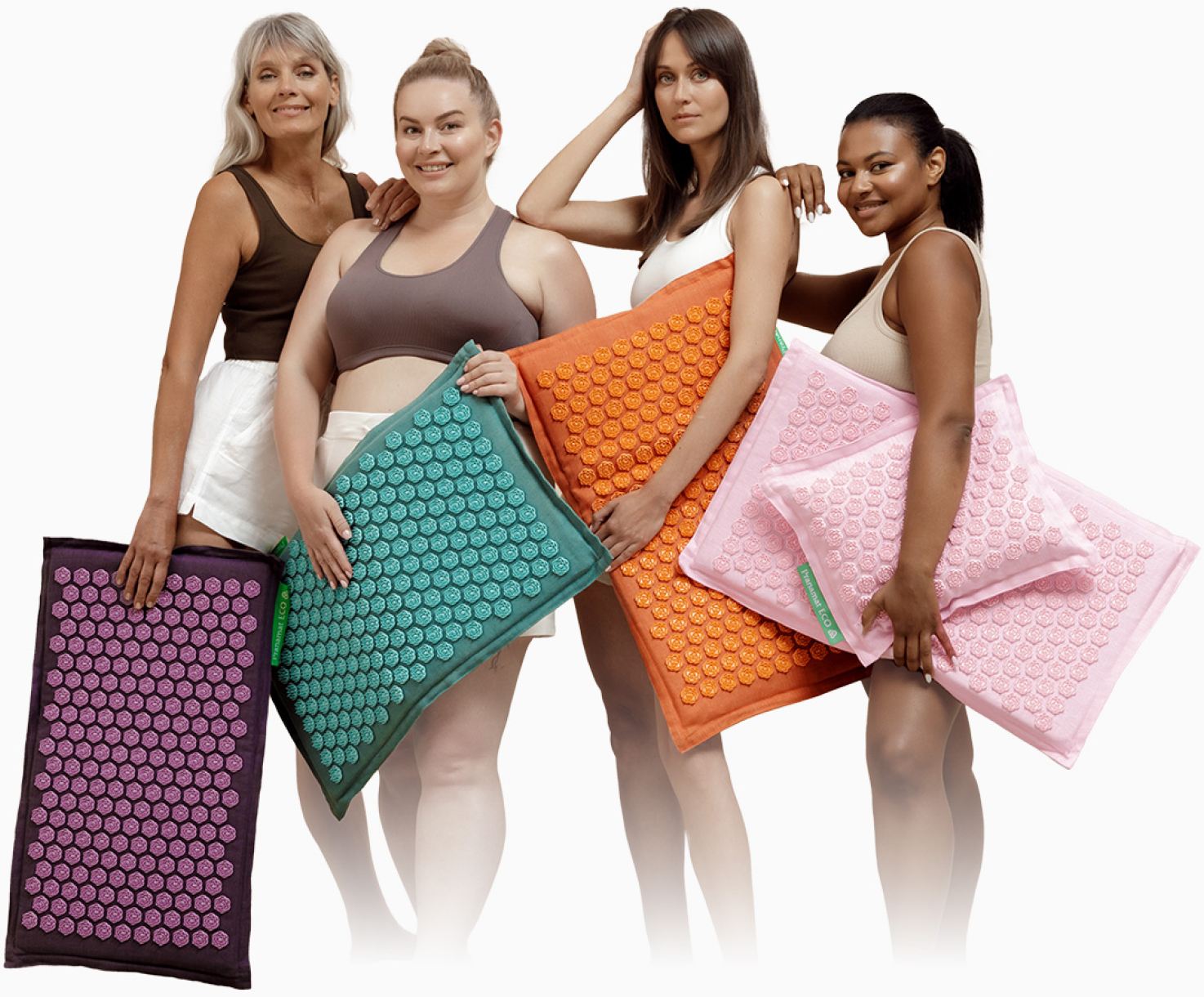 Join the World's #One Wellness Community
Over two million people tune in to our newsletters to get the latest on self-care, life-enhancing top tips, members-only access to limited edition items, gifts and offers. Join us today!