Mariah Gray
May 24, 2022
This mat has truly been life changing! I received my mat only 5 days ago and already have results. For the past year I've dealt with my left shoulder and arm being numb while I sleep due to baby wearing my little one. I truly thought it was something I'd have to live with. I regularly see my chiropractor and still no change in the numbness. I started using Pranamat for 20 min a day and after 3 days of use I no longer have numbness or pain in my shoulder and arm. I'm speechless! Thank you pranamat!
Rachel Beltz
May 23, 2022
I've never experienced relief like this. I started gently- 10-15 minutes a day for a week. That's all I needed for my back aches and pressures to be relieved! I'm now doing 25 minutes a day 7-5 times a week and I never have pain!!
Michael A Zinser
May 17, 2022
I can't exactly remember where I first saw the Pranamat ... I'm thinking here on Facebook and probably related to searching out 'relaxation' methods. I thought about the purchase for a while. It was in a price range, for me, that made it a 'think about' as opposed to a quick buy. I bought it and once it arrived, I lightly touched it and thought 'What have I done?' So, there it sat, in the package, until I worked up the nerve to try it out .... the pain... the fear ... ALL GONE THE FIRST TIME I LAY ON IT!!!! I LOVE my Pranamat ... one of my BEST purchases EVER! So much so, I went back and purchased the smaller one and the pillow (should have gotten the set from the beginning)... It TOTALLY helps me relax and sleep well. Really, it's the BEST!!
Nicole Pirie
May 17, 2022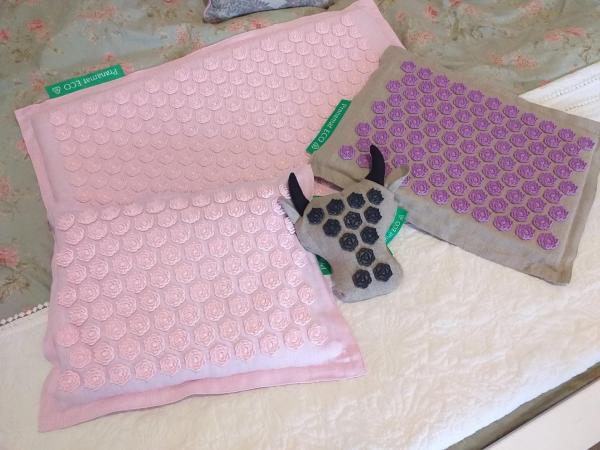 Sitting at my desk all day was leaving my back in agony. My workplace attempted to give me equipment to aid this and did it work? Nope!

I begun research and found that a lot of people benefited from acupressure and massages. Well I couldn't afford regular massage so acupressure it was.

After exploring many mat varieties across the web I decided to go for a product that clearly excelled in quality and was ethically brilliant too.

So, I placed my order, a pink pearl set and I haven't looked back… my aches and pains - relieved, instant relief.

My set has eased my pain, help me sleep, calm anxiety and has even enhanced the way I meditate and pray. It sets my mood beautifully and means my prayers are focused which is so important to me.

I have also purchased a mini mat and a micro mat for travel, along with a big bag of course. I'm addicted, but because it really does work.

Everyone I know, knows how much I love my pranamat sets and everyone close to me knows it too.

The best thing I have ever discovered!
Samantha Robinson
May 17, 2022
I just love my pranamat so much! I was at first hesitating only because of the cost upfront but I'm so glad I took the plunge! If I take the time to lay on it at night I have no back pain the next morning. It's so relaxing and leaves you wanting more time on it. Even my kiddos and husband ask for turns on it… it's that good!!
Kerri Williams
May 17, 2022
I LOVE my Pranamat! I initially decided to get one to help decrease stress and anxiety. My favorite way to use it is on bare back while laying on the couch. It has also come in handy when dealing with any kind of back pain. It offers instant relief and helps stress melt away. I was giddy the first time I tried it because it was such a unique experience. Everyone I show it to marvels at the idea. I've even given two away as gifts! I love all the different colors they offer!
Michaelyn Sebold
May 17, 2022
I love my Pranamat set! I sleep better after using it at night. I notice a difference when I don't. I wasn't sure what to expect when I got it but wow...it's amazing!
Natalie Woodall
May 17, 2022
was worried it would be painful (had tried a diff kind years ago and hated it) but the pranamat is amazing! it feels so much better and i really enjoy using it. feels great! and the customer service reps are super helpful in answering any questions ⭐️⭐️⭐️⭐️⭐️
Daina Merizalde
May 17, 2022
I originally saw this mat being used by the Housewives of New Jersey on their Instagram. I was immediately intrigued. Those little prickly flowers looked like the perfect amount of pain and pleasure. I am a mom of three and constantly have back pain. This allows me to sneak away for a few minutes to unwind or when I can't sneak away I can bring it to where I am at with my kids. I loved my mat so much I have since purchased a turtle and a mini mat!!
Kelsey S
May 17, 2022
I received the Mini Mat for a Mother's Day gift. The first massage I used it for was a foot massage and it was amazing! I've also used it for my back and hands and stomach. At first, it was an intense experience but after about 30 seconds, the intensity decreases and the whole experience is very soothing! I've used it about every other night since I got it to relax before bed.
Daina Merizalde
Nov 15, 2021
I have had a bad back for over 10 years. Even if I can convince my husband to rub my back, I need a deeper massage. This mat gets in nice and deep. I am obsessed!
Chanchi
Nov 01, 2021
Pranamat has been a little piece of heaven for me… grateful for all the time it heals me with calmness and good sleep.
Andrea Woods
Oct 29, 2021
I bought this for my husband and he loves it! We both use it and I was surprised at how helpful it is at relieving pain and tension in my back and shoulders. I was originally hesitant because I thought it would hurt- it doesn't!
Laís Nascimento Câmera
Oct 28, 2021
Pranamat changed my self care. It gave me more energy to commit to my health, to eat better and exercise, to love my body. This was the deep change, but it also make my skin so much better and shiny, helps with cramps and all sorts of pain. I am so grateful!
Barbara Guzmqn
Oct 28, 2021
OMG! No more pain, less migraines and no more visits to the chiropractor. I use this every other day and it has drastically improved my pain, in fact it has vanished it. I used to suffer from back pain mainly from sitting for 7 hrs at the office and bad posture and therefore I went to the chiropractor 3x a month. I haven't been back since I've purchased an acupressure mat. Life saver and money saver too!
Leigh Anne Regnery
Oct 26, 2021
My daughter talked me into ordering the set because I have had chronic leg pain for a year. I have been having limited mobility. I started using the mat last Sunday and every day since. I felt IMMEDIATE relief!!!! I am beyond happy. My life has changed in a matter of days. Using the mat a couple of times a day is a game changer for me. Words can't do justice to how I feel. Thank you for creating this product! And thanks to my daughter for begging me to try it based on past reviews!!
Murlikumar
Oct 26, 2021
My spouse having lower back pain and with Pranamat she is feeling much better now!!!!
Stacy Palmieri
Oct 25, 2021
I purchased the mat, mini mat and pillow and I was excited but nervous to try because it looked painful. But after using it and getting used to how it feels it really is wonderful!! My main reason for the purchase was for headaches that I suffer from daily and while it hasn't relieved them totally I do feel it helps a bit with the headaches. I would recommend this product!!
Ashley Riveral
Oct 25, 2021
At first, it was hard to lay on the mat. But as you use it all the time, you look forward to laying down and giving yourself the 20 minutes or more of a full body relaxation. Get the complete set with the bag! So worth it!
Paulette Shephard
Oct 25, 2021
I purchased the mat, pillow and heart pillow several months ago. Then I purchased the case and mini-mat a few weeks ago. I LOVE this product! I use it daily! I have now graduated myself to the skin to lotus experience...I find that I grab the min-mat and heart pillow more often during my day (I am retired RN living alone with my cat)...I love the heart pillow under my feet when ever I am sitting, and I love the mini-mat because of its size and availability to use on my shoulders, upper back, feet etc. I love the feeling of intense stimulation when I start my 35-40 min early morning session with the pillow at my head, mini-mat and large mat lying in sequence after the pillow, and the heart pillow at my feet. I lie on my bed naked on top of this configuration of pranamat ECO items for about 35-40 min...experiencing the change of feeling from intense stimulation to a surrender of relaxation and rest. I am invigorated and re-energized when I get done with this 'massage'. I love having the case to keep all the items together to take with me when I take a trip. I want to be able to gift a set to my oldest son who lives with autism and anxiety is his life-companion. I feel that this product could make a positive change in the level of his anxiety if he used it regularly. He is in his late 30's. Perhaps in the future I will even have the funds to gift a set to my other son who also has a very active life as a professional musician/artist and would welcome the daily practice of a pranamat ECO massage. (PS I am also a retired licensed massage therapist).
Nadja Ivaskova
Oct 25, 2021
I ordered pranamat almost 2 years ago and it is the best helper and healer for my backpain. Last year I ordered one for my mother a now we ordered one for other family members. Pranamat brought me better sleep, and during day I do not have any more bakcpain. I recommend pranamat to everyone.
Victoria
Oct 25, 2021
Intensive effect on the skin helps to eliminate the orange peel in problem areas. Just 5 minutes on the Miracle rug in the morning will help you wake up no worse than a cup of strong coffee, and 15 minutes in the evening will allow you to qualitatively relax after a long day and improve your sleep.
Acupressure massage relieves muscle tension and promotes the production of hormones, endorphins. This improves mood and reduces stress levels. Blood circulation and lymph flow are enhanced, cells are saturated with oxygen and nutrients
Ginger Hill
Oct 25, 2021
This mat is absolutely AMAZING!!! I should have ordered it a long time ago. I was hit by a semi truck and I have had pain on the side of my leg. When I use the Pranamat it alleviates the pain. It has also helped with my migraines and sleep. EVERYONE should on a Pranamat!!!
Samantha Bailey
Oct 24, 2021
I got my mat and pillow set as a way to reduce stress and help heal my digestive system. After less than a week I was addicted and now if I go more than a couple days without using it I pay for it! I love it so much I bought the mini mat and travel bag as well. I even take the pillow camping!