Alysia J
Jul 25, 2022
I never do reviews but just have to…. Literally the best health tool I've purchased (and I've purchased a lot of things). I've been on a journey of trying to find root cause of back pain and nerve issues and while I figure it out, my mat has been a lifesaver. It has come with me on a winter vacation in a tree house, to just this weekend camping. I started laying on it a few minutes and now can easily be on it for 1/2 hour. I often fall asleep on it and my husband will gently wake me to remove it. It has become the nightly routine. The mat has given me relief and also a great nights sleep which is bonus
Stacy Palmieri
Jul 24, 2022
I'm actually using it as I write this. At first I wasn't sure about pranamat only because it hurt but after using it awhile I absolutely love it!! I try to use it daily just as a little self care for myself. Don't let the spikes deter you from trying this mat!! It is the best!!
Susan Johnson
Jul 24, 2022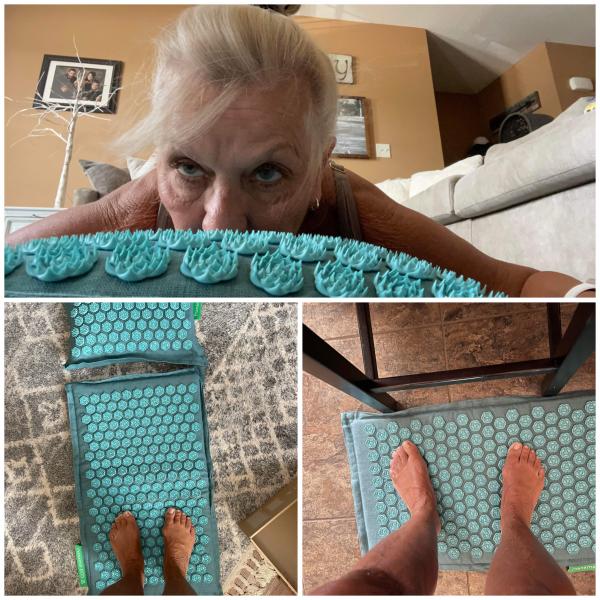 Received my pranamat 5 days ago and I am already obsessed and hooked on it. Had bad shoulder pain and already it is almost gone! Wish I had this 15 years ago! Getting ready to go on vacation and I am definitely packing this to take along! #ithurtssogood!
Lori Spencer
Jul 24, 2022
I bought this as a birthday gift to myself recently. I have used it daily and find myself much more relaxed - as in "how I felt as a child after hours of swimming" relaxed after each session. I look forward to it EVERY evening and thank Holly from @scienceofessentisls for encouraging me to look into it. Love it!
Sahithi Aluri
Jul 24, 2022
It won't irritate your skin and helps ease any aches or pain, the pressure was great.
Erica Murphy
Jul 24, 2022
I am loving my pranamat! I use it during my lunch break to meditate, recharge and clear my head. Plus it has been helping me sleep better at night too!
Joanna Jodeh
Jul 23, 2022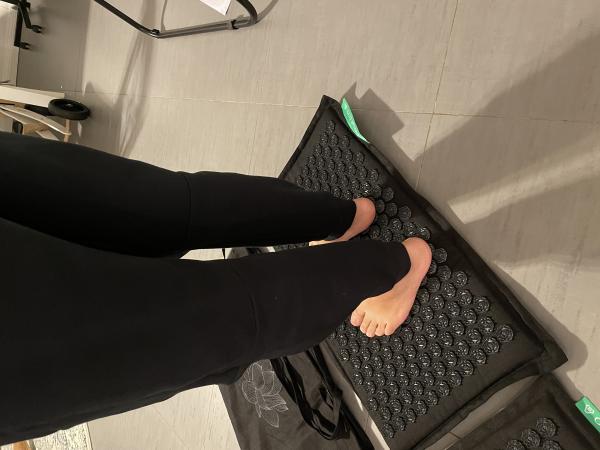 So far so good! Purchased the set last week after my yoga instructor highly recommended it. Speedy delivery and beautiful quality. Glad we purchased the black. The carry bag is a must. Hub and I have been using the mats daily- ranging from 5 mins to 40 mins- one or two mats at a time. The pillow is amazing! Nice to use when winding down. The body one on bare skin definitely needs some getting used to but one of us lasted 40 mins! We've worked out that standing on the smaller mat is the most excruciating at first but after about 10 mins, you feel the heat and we're soldiering through it :). Must say the benefits of using it before bed are already noticeable- feel relaxed and it's easier to fall asleep. Can't wait to see the long term effects in pain etc.
Danielle Kozak
Jul 23, 2022
I knew I wanted to purchase a set after my car accident in 2018, but for some reason was so hesitant. I travelled across Canada to Ontario to visit a friend and saw that she had one!!! We took the set to on a drive to Detroit and wow. I was shocked by how relieved I felt after even just standing on it after a long day of walking around Detroit. This mat has changed my life. I went from getting 6 to 7 headaches a day to none. I purchased two sets even, one to keeps at my parents and one for home. I have suffered nerve damage pain in my upper back between my spine and shoulder and some pain in my neck but daaaang son. Pranamat works! I tell everyone because I love it so so much. It takes some getting used to, for the first 4 to 6 minutes I debate getting off the matt but then all of a sudden the pain just sort of floats away and you can feel your blood pumping and things heating up. UNREAL. Hands down, fast shipping, amazing warranty (I did have to use once after a trip to MEX) all in all, thank you Pranamat, to the team and all who work hard to make them and all departments ..because of you I love my Pranamat eco so effing much!!!!!!
Molly Clifton
Jul 23, 2022
LOVE my pranamat. It's become part of my daily routine. It did take a little bit to get used to it, but stick with it! Your back, your mood, and your mind will thank you!
Kylee Daniels
Jul 23, 2022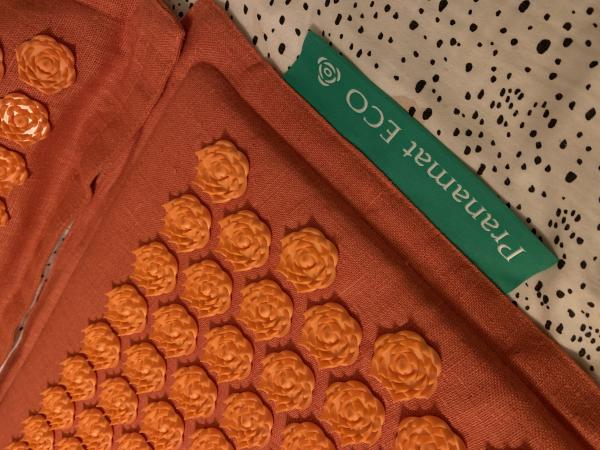 Just received this in the mail for my husbands birthday and we just tried it out. After just five minutes each we can see the benefits. Excited to try it out over the next month and see the full benefits! It's super spiky but that's what makes it steps above the cheaper ones.
Megan H
Jul 22, 2022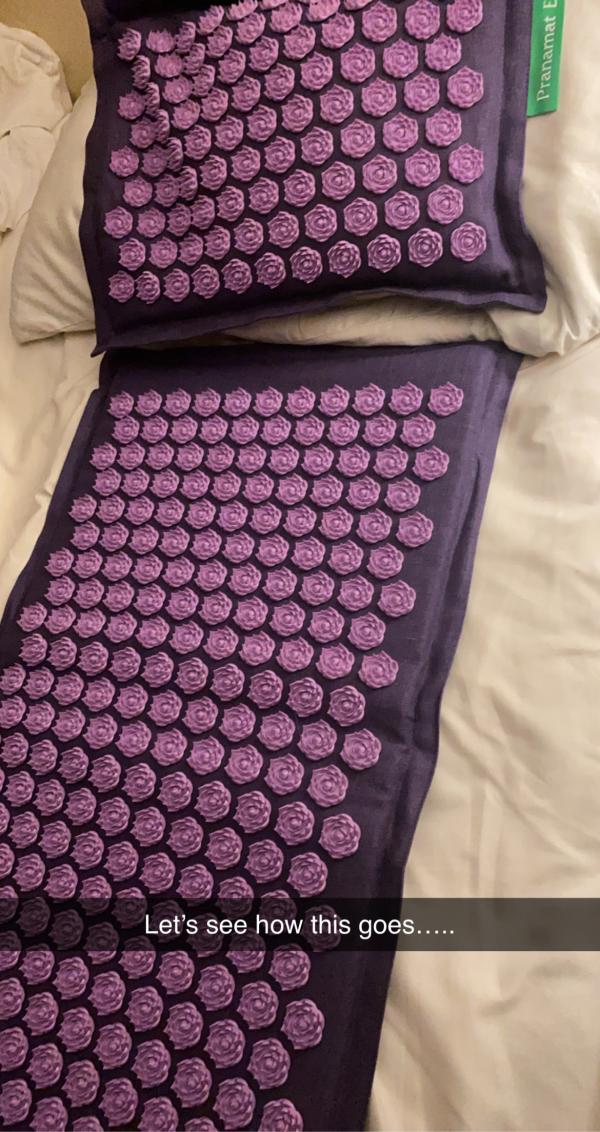 I have been wanting to get a Prana mat for a while and finally caved and made the purchase…I got it yesterday and opened it as soon as I got home from work. I showered and put it on my bed and laid on it for 20 mins. I FINALLY got a good night sleep for the first time in MONTHS!! This product is amazing and I have been telling every single coworker and friend about it and they are interested in buying them too! The colors are beautiful and the quality is awesome! You won't be disappointed!
Patricia Liceaga
Jul 22, 2022
I just love my pranaMat, it helps me relax. I love how helpful they are when you have questions they have the best customer service!
Kateřina Gálová
Jul 22, 2022
I couldnt buy stng better. I have rly Bad struggles with my back And this miracle thing helps me every day❤️ Thank u so very much
Laura Carter
May 25, 2022
I love my Pranamat Eco set so much. I honestly could not live without it. I use it every morning, during the day and also before bed. I live in chronic pain and it hurts to get out of bed. I use my Pranamat Eco mat and pillow every morning and it melts away the pain and tension in my body. I use it throughout the day. The mat is amazing and it's a great length to you entire back. It makes me feel so amazing and I'm so happy to have it. Also the pillow is great. It helps so much with neck pain and I love how it forms around my neck and head. It's way better than hard round pillows competitors make (I know because I had one before I got the Pranamat Eco pillow. Also, the pillow is great for the lumbar area of the back. I have migraines too and it helps to lessen the pain when I use the Pranamat set during a migraine. I don't have the smaller travel size Pranamat Eco but I need to order it one day. I take my mat with me every time I travel and go on road trips to concerts.
Jamie Meril
May 24, 2022
I love my prana mat! Helps me relax within minutes. Also relieves tension from back pain.. don't be scared of the lotus ???? pricks, I've fallen asleep on my mat many times!
Mariah Gray
May 24, 2022
This mat has truly been life changing! I received my mat only 5 days ago and already have results. For the past year I've dealt with my left shoulder and arm being numb while I sleep due to baby wearing my little one. I truly thought it was something I'd have to live with. I regularly see my chiropractor and still no change in the numbness. I started using Pranamat for 20 min a day and after 3 days of use I no longer have numbness or pain in my shoulder and arm. I'm speechless! Thank you pranamat!
Rachel Beltz
May 23, 2022
I've never experienced relief like this. I started gently- 10-15 minutes a day for a week. That's all I needed for my back aches and pressures to be relieved! I'm now doing 25 minutes a day 7-5 times a week and I never have pain!!
Michael A Zinser
May 17, 2022
I can't exactly remember where I first saw the Pranamat ... I'm thinking here on Facebook and probably related to searching out 'relaxation' methods. I thought about the purchase for a while. It was in a price range, for me, that made it a 'think about' as opposed to a quick buy. I bought it and once it arrived, I lightly touched it and thought 'What have I done?' So, there it sat, in the package, until I worked up the nerve to try it out .... the pain... the fear ... ALL GONE THE FIRST TIME I LAY ON IT!!!! I LOVE my Pranamat ... one of my BEST purchases EVER! So much so, I went back and purchased the smaller one and the pillow (should have gotten the set from the beginning)... It TOTALLY helps me relax and sleep well. Really, it's the BEST!!
Nicole Pirie
May 17, 2022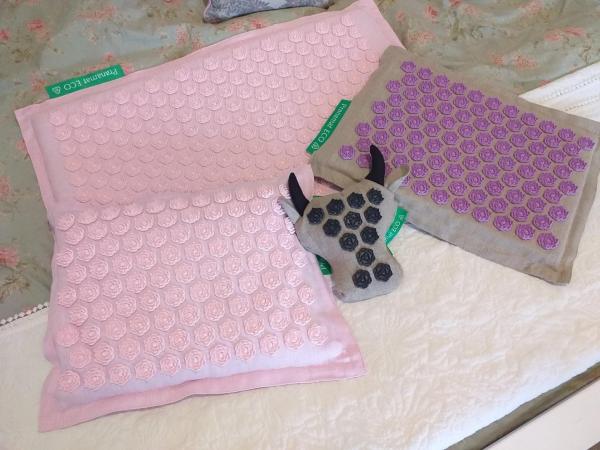 Sitting at my desk all day was leaving my back in agony. My workplace attempted to give me equipment to aid this and did it work? Nope!

I begun research and found that a lot of people benefited from acupressure and massages. Well I couldn't afford regular massage so acupressure it was.

After exploring many mat varieties across the web I decided to go for a product that clearly excelled in quality and was ethically brilliant too.

So, I placed my order, a pink pearl set and I haven't looked back… my aches and pains - relieved, instant relief.

My set has eased my pain, help me sleep, calm anxiety and has even enhanced the way I meditate and pray. It sets my mood beautifully and means my prayers are focused which is so important to me.

I have also purchased a mini mat and a micro mat for travel, along with a big bag of course. I'm addicted, but because it really does work.

Everyone I know, knows how much I love my pranamat sets and everyone close to me knows it too.

The best thing I have ever discovered!
Samantha Robinson
May 17, 2022
I just love my pranamat so much! I was at first hesitating only because of the cost upfront but I'm so glad I took the plunge! If I take the time to lay on it at night I have no back pain the next morning. It's so relaxing and leaves you wanting more time on it. Even my kiddos and husband ask for turns on it… it's that good!!
Kerri Williams
May 17, 2022
I LOVE my Pranamat! I initially decided to get one to help decrease stress and anxiety. My favorite way to use it is on bare back while laying on the couch. It has also come in handy when dealing with any kind of back pain. It offers instant relief and helps stress melt away. I was giddy the first time I tried it because it was such a unique experience. Everyone I show it to marvels at the idea. I've even given two away as gifts! I love all the different colors they offer!
Michaelyn Sebold
May 17, 2022
I love my Pranamat set! I sleep better after using it at night. I notice a difference when I don't. I wasn't sure what to expect when I got it but wow...it's amazing!
Natalie Woodall
May 17, 2022
was worried it would be painful (had tried a diff kind years ago and hated it) but the pranamat is amazing! it feels so much better and i really enjoy using it. feels great! and the customer service reps are super helpful in answering any questions ⭐️⭐️⭐️⭐️⭐️
Daina Merizalde
May 17, 2022
I originally saw this mat being used by the Housewives of New Jersey on their Instagram. I was immediately intrigued. Those little prickly flowers looked like the perfect amount of pain and pleasure. I am a mom of three and constantly have back pain. This allows me to sneak away for a few minutes to unwind or when I can't sneak away I can bring it to where I am at with my kids. I loved my mat so much I have since purchased a turtle and a mini mat!!