Jennie Riccio
Oct 24, 2021
Invigorating! Highly beneficial (Multi benefits!)! You're worth it!
Amy
Oct 21, 2021
I loved by Pranamat eco set so much, that I have recommended to family and friends. I feel relaxed and noticed less tension in my neck and shoulders.
Lois Halgerson
Oct 20, 2021
I love how relaxed I feel after using my mat
Krysti
Oct 20, 2021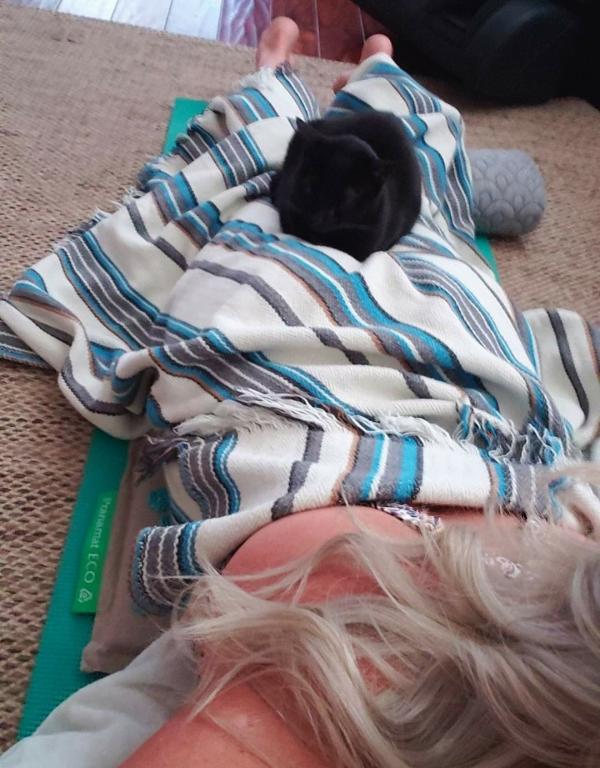 Love my mats. With a thin pair of socks, I love to stand on mine daily. It quickly eases my foot tension and pain.
Sure, -at first- it may be uncomfortable to lay on but after just a minute my body begins to melt.
I'm a big fan of earbuds and music or a good audio book while under a cozy blanket to pass the time.
Its been a great place to meditate as well and I love love love the pillow for my head/scalp or under my thighs when I sit.
The cat is also a fan lol
Jessica Dembinski
Oct 20, 2021
I am head over heels in love with my prana pillow! Takes away tension headaches in less than 20 minutes!
Kate
Oct 20, 2021
I don't know what i would do without our pranamat! Our daily routine of everyone gets a few min to rest and recharge while laying on our mat-such a precious and priceless addition to our home! Also- the tiny turtle and pillow are fantastic for traveling ;)
Sharleen Wittnebel
Oct 20, 2021
This mat has become a miracle worker. Within the first five minutes it takes you to the next level of relaxation. My 15 year daughter even comes and steals my mat all the time.
Carmella Fisher
Oct 20, 2021
This mat is so relieving and wonderful. I find myself drifting away into meditation quickly upon using it, which is just what I needed. I suffer from chronic Lyme and cluster headaches, and this helps all the pains. Thank you!
Ken Hamric
Oct 20, 2021
So Relaxing. Helped calm the pain in my lower back.
Tomaž Praprotnik
Oct 20, 2021
I just ordered mine - waiting for it to be shipped. A colleague who suggested Pranamat to me told me about his expirience which made me go for one. I am having back and neck pain which I hope to get rid of.
Cassie Burgett
Oct 20, 2021
Really happy with the mats so far! They've provided almost instant relief from neck and shoulder tension! I would definitely recommend!!
Nikki Ramsey
Oct 20, 2021
I absolutely looove the mat! I have been able to reduce my chiropractic apt with the benefits of this mat!8 always relax and fall asleep! It's the best thing ever
Meg
Oct 20, 2021
As we all have felt the heaviness of the last couple years, we forget at times to take care of our WHOLE self. Body + soul.
Getting the pranamat has been a blessing. It's helped to relieve sore muscles, headaches, calm the nervous system, gives us the zing to our mornings and the serenity to our nights.
So happy with ours and know it could bring lots of love to others!
Thanks for making a wonderful tool for people to release and reap what they need.
Karen Swartzwelder
Oct 20, 2021
My Pranamat experience has been amazing from easy ordering to quick delivery. I purchased the 3 piece set and mini turtle. I lay on it in bed every night for at least 1/2 hour while reading. Not only does it help my back pain, I sleep like a baby! When I get headaches with neck pain, I use the turtle. I carry it in my car on long trips. I stand on the small mat and become energized. This purchase was well worth the money.
Taylor Klein
Oct 20, 2021
I absolutely love my prana mat, it has helped me with my anxiety, and has also helped me with headaches and chronic back pain.
Lauren Orchard
Oct 19, 2021
I'm in love with my Pranamat! I use it for stress relief and relaxation. I use it almost every night. It is worth every penny! I have purchased 2 more sets as gifts for friends and family and each would say the same thing :)
Elena
Oct 19, 2021
I bought it as a gift for my friend. She loves it.
Kalyn C
Oct 19, 2021
I honestly notice a huge difference in both my body and my mood when I use this regularly. The first time I laid on it I immediately got back up because it was so much sensation, now I can lay on it in pure joy and comfort, feeling the warmth of increased bloodflow, for 30+ minutes. Slowly trying different ways to use it, and couldn't recommend it enough. Just yesterday I was looking at massage prices online and decided against it, and instead jumped on my pranamat and was so happy I had it! I'm confident I'd see even more benefits if I used it more often than I do.
Sharmaine
Oct 19, 2021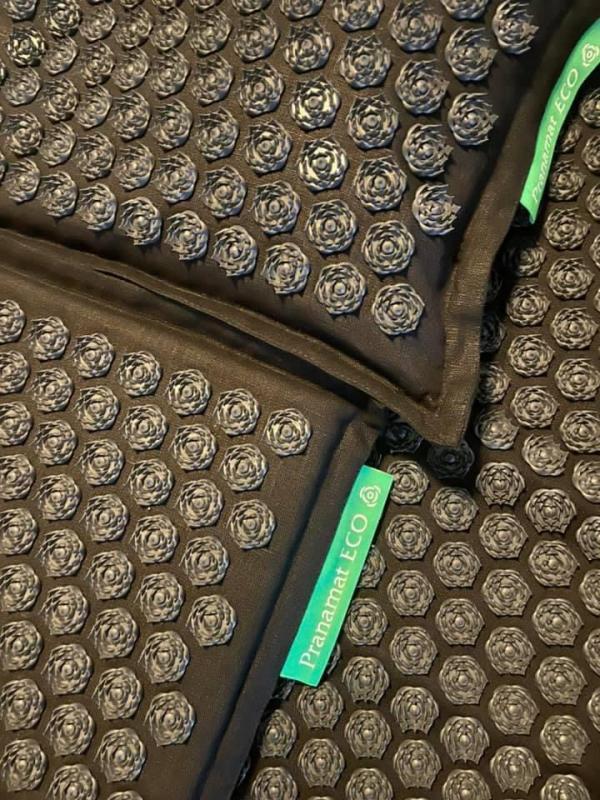 I absolutely love Pranamat and how I feel after a 15 minute session on this. Really helps me to have the best sleep ever :)
Michaelyn M Sebold
Oct 19, 2021
The nights I don't use my Pranamat set I don't sleep as well. It's been a game changer. I love it!
Iryna Reed
Oct 19, 2021
I've been using Pranamat for some years now. Initially I bought it for my back pain, and then realized that, when I lie on it, it puts me to sleep. So now, whenever I feel stressed or tense, I pull it out and lie on it with my bare back. It never fails to do its job
Kristina Tempel
Oct 19, 2021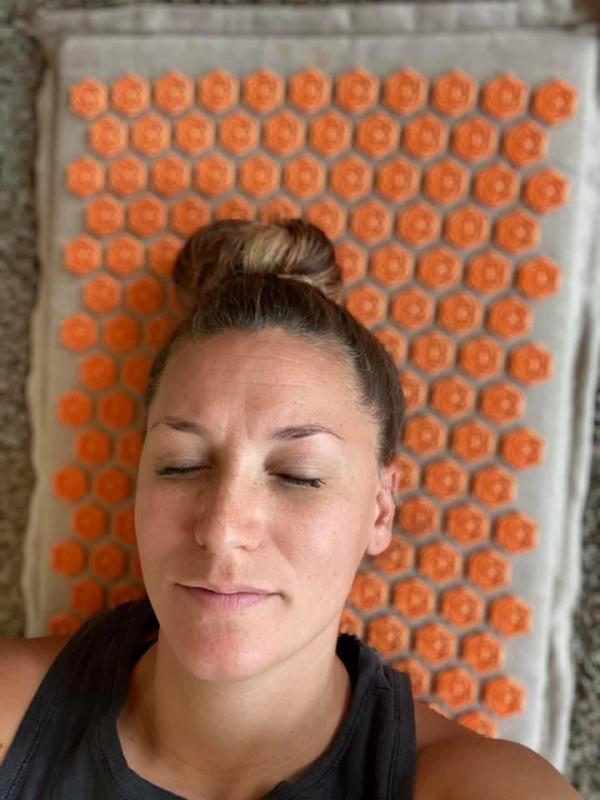 Love the Pranamat for post workout recovery, helping release tension in my muscles and helping release sore spots. If you're on the fence about grabbing one, just do it- you won't regret it!
Rochelle S
Oct 19, 2021
Hello, I got my husband the dark green set for his birthday. It was a total surprise - he had not been shopping for any product like this. He has some back pain, and I thought this might help. He loves it! He finds it very relaxing and will actually fall asleep on the floor laying on it. He liked it so much, he ordered one for his dad's birthday, as his dad also has some back pain. We got the set with the pillow. When I'm laying on it, I don't use the pillow, but he likes it. That part is probably personal preference.
Julie Thormodsgard
Oct 19, 2021
I have been loving my Pranamat ECO mat and pillow. The pillow has helped a lot with relieving my headaches. Laying on the mat helps with my back pain and stress. Standing on the mat makes a difference with the pain in my feet.