Sarah Kriwanek
Oct 19, 2021
I purchased the mini turtle, and it has been amazing. I use it on my back almost every day.
Karen Rodwell
Oct 19, 2021
Hello! I have have my purple prana pillow and mat for about a year now, and I absolutely cannot live without it. I say that because it has helped me recover so many times from neck pain, hip and back pain and even aching feet. It takes as little as 15 minutes lying on it to feel relief. It is durably made so I know that I will have it for years to come. I even bought my daughter a pillow to help her ease her lower back pain, and she too loves it. I'm so glad I discovered it. Thank you Pranamat ECO.
Jessica Wiley
Oct 19, 2021
I've seen these over and over floating around social media and finally decided to splurge for my own. I love having my own. Still tempted to buy the small little animal pillows, however, I'm enjoying what I have.
DZ
Oct 19, 2021
Has been waiting for a little over a year to purchase the three piece set and finally decided to this summer during the sale. I've fermente developed the work from home neck and shoulder "syndrome" and have constant lower back tightness as well. I've only used a handful of times but already noticed my back feeling less tight and strained and feeling that I have better mobility. I'm excited to see what comes of more regular use.
Aggie Baum
Oct 19, 2021
I can not tell enough good things about Pranamat Eco. I have been using it for several months and it changed my life. I lay on it before I go to sleep. It takes me less then 3 min to feel the amazing relaxation effect. This became one of my favorite routine. I feel not only relaxed and happy but also: my mind slows down and my join pain is gone. If you are skeptical (like I was) give it a try. It is absolutely life changing experience.
Harriett Martin
Oct 19, 2021
Pranamat is amazing. I have gotten so much relief from neck pain and chronic back pain. I am a nurse and work in a high stress environment and the Pranamat helps to relieve stress.
Cassidee Thompson
Oct 19, 2021
We love our pranamat. Best purchase we have made
Lesley Inglis
Oct 19, 2021
We love our Pranamat! Though skeptical at first, we got it on the recommendation of a good friend, and we couldn't be happier with it. I have found my sleep has improved when I'm using it regularly. I didn't think I'd enjoy laying on it, but I actually do! Once the initial discomfort is passed, I love the heat that's generated in my back and the deeply relaxed state it puts me in. 10/10 recommend.
Magdalena Lenkowski
Oct 19, 2021
Love my pranamat! I've been using it mostly for my neck pain but I've also used it as a whole body treatment to relieve aches and pains in my lower back. It gives me the best relaxation - put a favorite song on or listen to books or watch a good show and next thing I know I'm ready to tackle next day!
Vanessa
Oct 19, 2021
My Pranamat has really helped ease the discomfort tight fascia and muscles cause in my upper back, shoulders and neck. It helps relax them and therefore helps me relax.
Misty Lewis
Oct 19, 2021
I ordered my pranamat a few months back and I am in love!! My back feels better than ever, my sciatica rarely rears it ugly head, and my monthly visitor is virtually pain free!!
Kim Merrigan
Oct 19, 2021
I received a set as a gift, I bought a set as a gift and I turned my girlfriend onto these who then bought one set as a gift and one for herself. Best stress release in the world!
Katja Luzar
Oct 19, 2021
This pilows are the best. They help me relax my back and neck musles.
Chloe Howdershell
Oct 19, 2021
I have been using my pranamat set for over two years now. I cannot live without it. It has been so amazing for my migraines, as well as any aches and pains, and simply just to wind down and relax on.

I highly recommend purchasing the full set if you can. It is a serious game changer, especially if you are a person who experiences chronic pain and stress like me!

Once you get past the first few uses (I recommend wearing thin clothing at first to get used to the sensation) you will start to crave the warm relaxing sensation that the mat provides. It's such a fabulous release of tension and really gets the blood to circulate. I tell everyone I know about pranamat. It's that good.
Yael DeVita
Oct 19, 2021
I was curious about the pranamat eco for about a year before purchasing. It took me about a month to get used to it but I can definitely gage the benefits now. It's definitely a hurts so good feeling and not for everyone but I love mine. I'll use it mostly on my back and turn on a meditation to relax. Love it!
Amber Rex
Oct 19, 2021
I enjoy using my pranamat daily after workouts and to relax before bed. I've loved the many benefits it offers. Very happy I bought the set!
Kerry Knudson
Oct 19, 2021
I received my set super fast and WOW! I'm so impressed with the quality of this set, and I'm in awe of how nice it made my sore back feel and how relaxed I feel. I can't wait to use it again and again! Thank you!
Molly Smith
Oct 19, 2021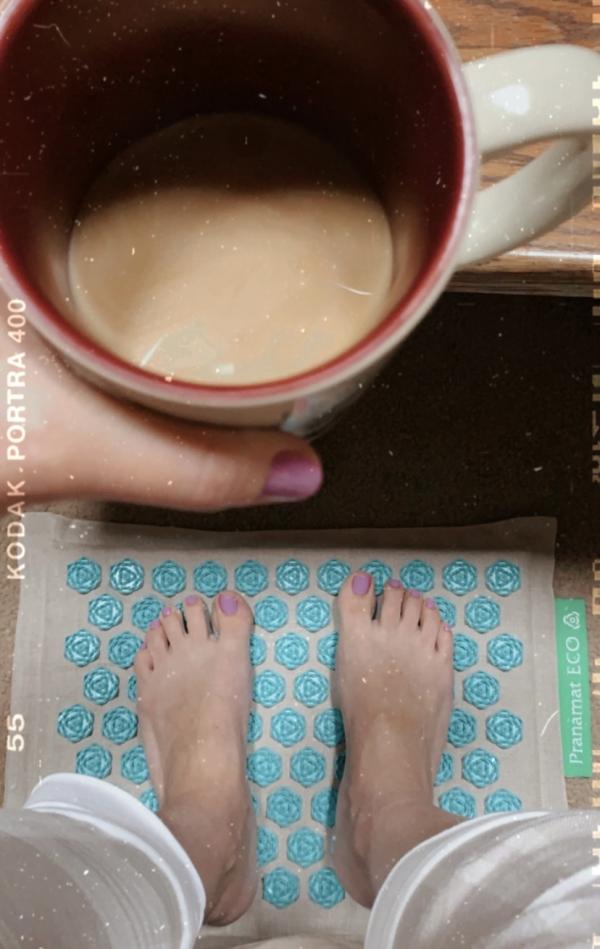 The pranamat is the best. I use it for shoulder and neck pain, headaches as well as when I have sore tired legs. Even just 5 mins a day makes a world of difference. It hurts so good!
Arianna Hosinski
Oct 19, 2021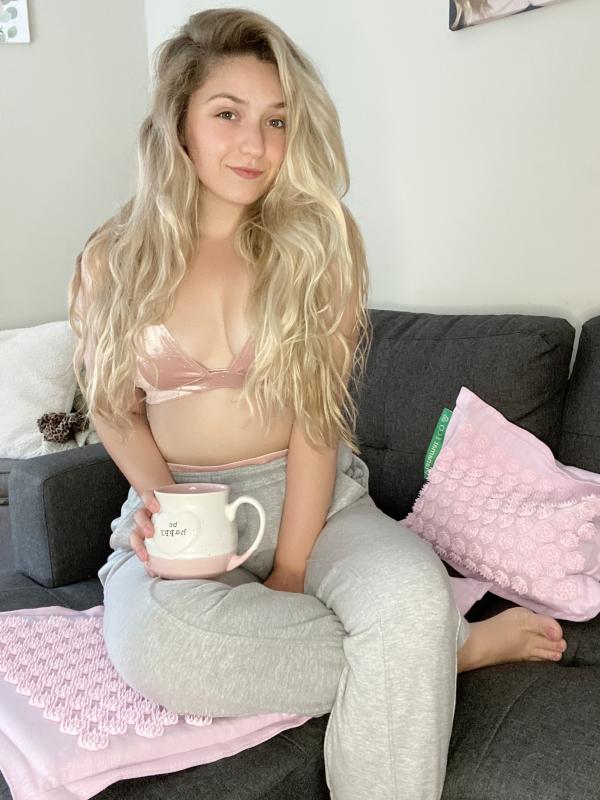 I have used my pranamat every day since I got it and it has helped my pain more than anything! I stopped taking medicine years ago and always wanted a more natural route, and the pranamat has given that to me. I was lucky enough to receive a travel turtle as well since I travel for work and everyone I've shown has found as much comfort in it as I have! I love my pranamat and plan on purchasing so much more in the future!
Stephanie Eads
Oct 19, 2021
Absolutely one of the best things I've ever purchased! I suffer from a bad back & hip and this has helped relieve my pain. I even fall asleep laying on the mat and wake up feeling so refreshed! Highly recommend
Hayley Porter
Oct 19, 2021
I adore the PranaMat! I can feel the true healing literally instantly. Even after only laying on it for 5 minutes, I feel a sense of deep circulation and inflammatory benefits! The longer I am on it, the better! I eve the full large set and every inch of my body thanks me!
Lois A Halgerson
Oct 16, 2021
After only useing it a handful of times I have already noticed less tightness in my muscles!
SACHA DASALLA
Oct 15, 2021
Our whole family loves this!! My husband, daughter and myself take turns using it before bed. It helps with tension, anxiety, and just general well-being. It helps our 9-year-old daughter fall asleep faster. My husband and I also use it when we have anxiety. We need to get more because we all need our own at this point. I also got my parents to buy a set and they both love it. My dad has severe neuropathy in his hands and he uses the small turtle for it. Can't recommend it enough!
Kim Matarazzo
Oct 15, 2021
FINALLY something I have that turns the tables from me being the pain intolerant wimp with my "tough guy" boyfriend who's first aid kit is compromised of super glue and duct tape. I can't get enough of my Pranamat Eco. I use it every night to help me wind down for a night of sleep. It's also been a vital tool in my shoulder and neck pain. Love love love